As anyone who searches the pages of The Library might have guessed, Heddon rods are among my favorite. I have been fishing and collecting Heddon rods for decades, and I would like to share with you some of my research. Over the course of time, I will use this space to write about Heddon rods which have crossed my path. Not only will I draw upon research of past, but I am hoping to share my own findings through my experience with these great "rods with the fighting heart".
Today, I would like to share some observations about one of my latest Heddon aquisition. This is a 8 1/2' Heddon #50 De Luxe President Rod, which I was fortunate to purchase from fellow collector and rod maker Tim Zietak. Built on a 2 ferule, this rod is wonderful to cast, and I am thrilled to own it.
One interesting fact about this rod is that it has Heddons, "Black Heddylin, (Pyralin) Screw Tite Locking Reel Seat," which was first introduced in 1930. Presidents with this reel seat were only offered for one year. I have shown it here with another very unique rod that I aquired about 10 years ago from a good friend of mine, the late Robert Baird. I no longer own this rod but have sold it to a close friend and fishing buddy, Al Zoler. I wouldn't let it get too far away for fear it would get lost. I show these two rods together for comparison. The lower rod that sports the gum wood spacer, was totally restored by Steve Blake of Sisters, Oregon about 8 or 9 years ago. The upper rod is in its original condition. Seeing the two of them next to each other shows just how precise Steve's work truly is.
I am now convinced that these two rods were built in the same year (1930). We know that Heddon offered different specifications when ordering a #50 President, as seen with this slide band version as opposed to the screw locking seat. 1930 was the first year that Heddon offered a President in a length shorter than 8 1/2'. The bottom rod is an 8' rod built on a 2 ferule. It was outfitted with a lovely gum wood spacer and wedding band style slide band. Again, a very rare rod built for only one year, 1930. This was the first year an 8' rod was offered. The very next year, as mentioned in the 1931 catalog, Heddon states that their President would now be outfitted with a Circassian Walnut and slide band reel seat. The Screw-Tite reel seat was now being used exclusivley on the #35 De Luxe Peerless and was no longer used on the President models. We will get into the #35s later.

Reel Seat Comparisons show the same identical Pyralin butt cap and bottom hood. The Grip checks as well are identical.

This Winding check comparison shows slight differances in the markings but Cleo's hand for sure.

Wonderful gun metal finish to these ferules.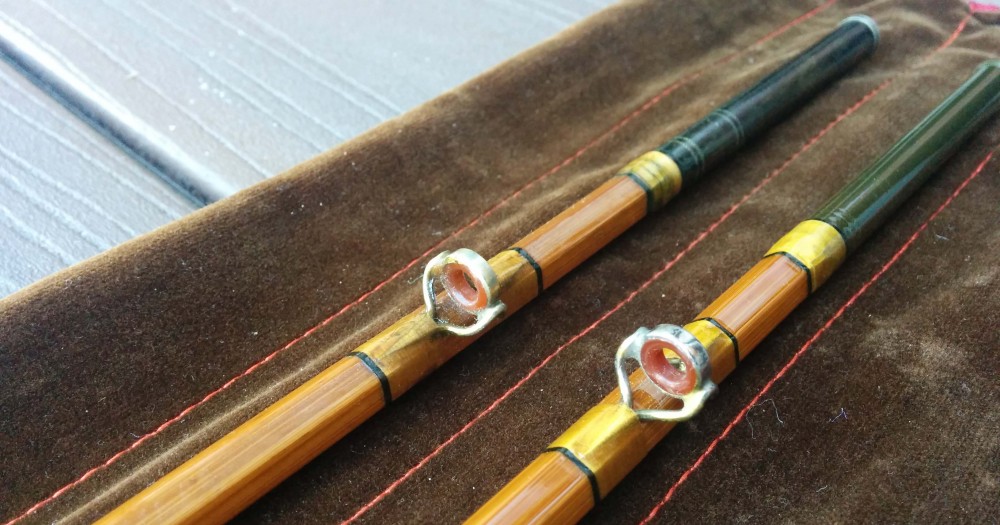 And here we have a matched set of stripping guides no doubt hand filed by the same craftsman.
Credits:
A special thanks to Mark Williams (wrong66) for his efforts and sharing his Heddon Catalog information on the Classic Fly rod Forum. Also special thanks to Michael Sinclair (PaducahMichael) for all he has done in helping to preserve the History of the Heddon rod in his book "Heddon The Rod With The Fighting Heart".